Tableside Information:
Common Names: Sushi Fluke, Summer Flounder
Fluke has a beautiful paper white cooked flesh. Fluke boasts a sweet light flavor.
Sweet, Mild, Light, Paper White.
Food Information:
The Fishery – Just south of Tallahassee, in the heart of Florida's "Big Bend" region, is the port City of St Marks. This fishing community boasts that they are the oldest city in the Country (St. Augustine contests...). Here we've partnered with a family that has fished Apalachee Bay and the Gulf of Mexico for six generations. With the highest level of pride, they harvest local Gag Grouper, American Red Snapper, Octopus, Black Bass and the world-renowned Stone Crab Claw. We distribute this magnificent product around the globe, next day air.
THE FISH – Gigged Fluke has a phenomenal quality. The Gig instantly kills these fish and leaves the flesh very tender. The quick turn around on a Gig trip ensures the freshest available. Fluke generally flake perfectly with a great moisture content. Left Eyes are genetically predisposed to hold fattier flesh as they are closely related to Halibuts.
Seasonality:
Spring Summer
Share:
Range & Habitat: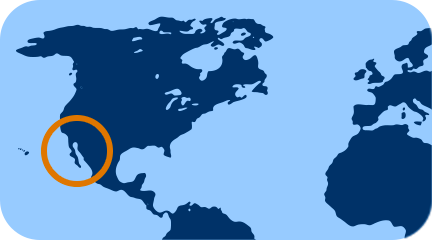 Southern California & Mexico
Origin:
Apalachee Bay
Producer:
Harvest Method:
Net Caught