Tableside Information:
The "KING" of Crustaceans.
Sweet, Sweet, Sweet, Sweet
Food Information:
Similar Species: Blue King Crab (Paralithodes platypus); Golden King Crab (Lithodes aequispinus)
THE FISHERY - SeafoodS.com has one of the most direct procurement programs in the National Marketplace. As many "Brokerage" Companies haggle with one or two boats, SeafoodS.com utilizes a phenomenal partnership with several direct buying programs. This allows us and our customers the opportunity to "pull" from several direct purchases. We are poised to be "Fully Loaded" for the duration of the season and are one of the first to market with Live and Fresh King Crab. Give your purchasing an easy avenue to King Crab this year.
THE CRAB - King Crab is the highest regarded Decapod Crustacean in Fine Dining. True Alaskan King Crab are a delicacy beyond reproach. Unlike Tanner, Blue, Dungeness, and Jonah crabs, the Alaskan King Crab is a "Monster". With some individual legs weighing over a pound, the Alaskan King Crab is an awe inspiring guest experience. Not only is it a dining spectacle, the Alaskan King Crab offers one of the Sweetest proteins on the planet. Buttery textures, sweet flavors, gorgeous coloring, ample sizes, and all around "Feast" appeal, "Crown" Alaskan King Crab at the pinnacle of seafood.
Boil, Steam, Grill, Roast
Seasonality:
Spring Summer
Share:
Range & Habitat: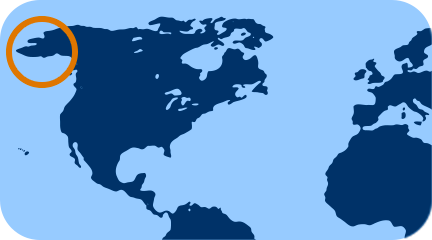 Pacific Northwest & Alaska
Origin:
Berring Sea
Producer:
Harvest Method:
Net Caught