Tableside Information:
Common Names: Stone Claw, Stoners
Stone Claws are traditionally served chilled, cracked and exposed. The Meat of the Stone Claw is very tender and one of the sweetest in the sea. They also boast a beautiful "Ocean" flavor that compliments their sweetness.
Food Information:
THE ATLANTIC FISHERY - Direct Florida Distribution allows SeafoodS.com to supply the country and Caribbean with the freshest Southern Atlantic Species. Overnight opportunities can bring South Beach to your Guests. The ability to ship Stone Crab with high quality Tuna, Mahimahi, Swordfish, Grouper, Snapper, and Hogfish, is a complete seafood program that guarantees diversityin menu.
THE APALACHEE FISHERY - Just south of Tallahassee, in the heart of Florida's "Big Bend" region, is the port City of St Marks. This fishing community boasts that they are the oldest city in the Country (St. Augustine contests...). Here we've partnered with a family that has fished Apalachee Bay and the Gulf of Mexico for six generations. With the highest level of pride, they harvest local Gag Grouper, American Red Snapper, Octopus, Black Bass and the world-renowned Stone Crab Claw. We distribute this magnificent product around the globe, next day air.
THE CRAB - Stone Crab Claws are served in some of the most revered fine dining establishments in the world. As a starter or salad course, Stone Crab Claws elevate check averages by very large percentages. Also, Stone Crab Claws vary in size, and can be as profitable to the bottom line as any other menu item. A little goes a long way.
Sizes:
Medium: 6-8 per lb.
Select: 6 each per lb.
Large: 3-5 per lb.
Jumbo: 2-3 per lb.
Colossal: 1-2 per lb.
Seasonality:
Fall Winter
Share:
Range & Habitat: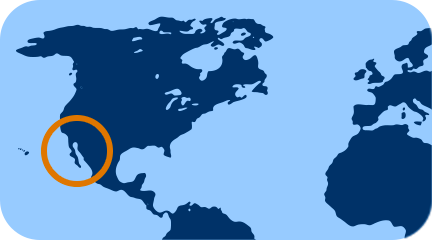 Southern California & Mexico
Origin:
Atlantic Ocean
Producer:
Harvest Method:
Net Caught