Tableside Information:
Common Names: Escolar, Hawaiian Butterfish, White Tuna
TABLESIDE - Brilliant White with the with a silky texture of the fattiest of Tuna.
Paper White, Extremely Moist, Creamy.
Food Information:
THE FISHERY - Hawaiian Walu Fishermen troll the South Pacific Long Lining for Pelagic species. The Walu is a targeted species with a long history as a food fish. Walu are hand selected for SeafoodS.com and our customers at the United Fishing Agency Auction in Honolulu.
THE FISH - Walu is a long slender fish with a high fillet yield. The Walu is unable to digest wax esters in its natural diet. This attributes to one of the richest fish in the Pacific waters.
*Serving suggestion:
4-6 ounce portions.
Sashimi, Sushi, Grill, Poach.
Seasonality:
Year Round
Share:
Range & Habitat: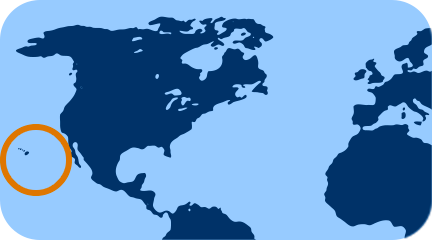 Southern Pacific & Hawaii
Origin:
Hawaii & Open Pacific
Producer:
Harvest Method:
Hook & Line