Tableside Information:
Common Names: Catarina Scallop, La Almeja Catarina, Pacific Calico
Diver Caught Bay Scallops are the best available in the Pacific.
Sweet, Firm, Complex Ocean Flavor, Clean
Food Information:
THE FISHERY - The Southern California and Baja Mexico scallop fishery is very small and accounts for less than 2 percent of the Scallop market. From small fishing villages along the northern part of the Baja Peninsula, Day Boat Fishermen set out in small Wooden Pangas for a day of hand lining and Scallop diving. The honor of tradition and familial unity are drivers in this amazing Day Boat program.
THE SCALLOP - Baja Bays are some of the rare fresh bay Scallops found in our domestic market place. In general, the only fresh Bay Scallop produced in the States is the Nantucket Bay Scallop available in small numbers from November through March, with price tags ranging from $15.00 to $21.00 pound. The "Sea of Cortez" Bay scallop is again a "Hand Harvested" product, landed by Divers in shallow waters off the coast of Baja. The shucked abductor muscle grades between 60-80 counts per pound.
Ceviche, Gratin, Crudo, Saute
Seasonality:
Year Round
Share:
Range & Habitat: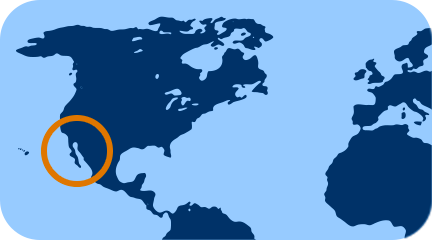 Southern California & Mexico
Origin:
Sea Of Cortez Lagunas
Producer:
Harvest Method:
Hand Cultivated