Tableside Information:
Common Names: Chinook, Tyee Salmon, Black Salmon, Hook Bill Salmon, Winter Salmon.
High in Omega 3 Fatty Acid. The highest recognized Fine Dining Species.
Silky, Super Moist, Umami, Sweet.
Food Information:
THE FISHERY - SeafoodS.com is enamored by the availability of Day Boat King Salmons available in our partnerships. Trolled, Dip Net, and Netted, these are the best of the best in the market. Our program allows Chefs to follow the harvest season regionally as they open. A full line of Salmon will keep continuous supply of flawless marketable Red & Ivory King Salmon.
THE FISH - King Salmon is one of the most Marketed Species of fish in the world. Wild and typically labeled "sustainable", the King Salmon has a place on anyone's menu. A chef's application to this fatty, silky, rich flesh is only limited by the creativity demanded by their patrons. King Salmon, whether Ivory or Red, have some of the most celebrated health benefits in the nation. Omega 3 Fatty Acids are the utmost identified nutrient in seafood. Grab A "Big Boy" for your specials board direct overnight.
Seasonality:
Spring Summer
Share:
Range & Habitat: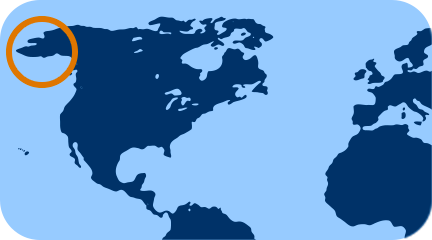 Pacific Northwest & Alaska
Origin:
California to Alaska
Producer:
Harvest Method:
Hook & Line