Tableside Information:
Common Names: Silver Salmon
Bright Orange with a milder flavor and leaner texture.
Mild, Sweet, Succulent, Flakey
Food Information:
THE FISHERY - The Cordova Direct program allows SeafoodS.com to really connect with a fishing family in Cordova. Captain Tim Dillon and his family fish the waters of Cordova for some of the most pristine fish available. Priority Overnight shipping allows the fastest turn around for the freshest fish. An uncommon shelf life puts the best value in your cooler. With exceptional handling and care, Cordova Direct Coho is the epitome of Alaskan seafood.
THE FISH - One of the stars of Alaska is the brilliant Coho, the Silver Salmon. The mildly flavored Coho has a brightly colored flesh that is leaner in texture than that of King Salmon. While market weights range between 6 to 8 lbs, the fish of the Cordova Direct program with Capt. Tim consistently offers fish above 10 lbs. Larger Cohos tend to be a wider fillet and are readily apt to accept any cooking methods warranted by the chef. The slightly lowered fat content of Coho lends itself to a silky mouthfeel that doesn't over encapsulate other ingredients. It is a perfect species for house-smoked applications and house-cured representation. It finds a home on the grill, in the broiler, simply sauteed, or even sous vide. Its vibrant coloration pops in crudo, tartare, sushi, and sashimi. Coho has a reputation as one of the best flavors in the Salmon kingdom.
Seasonality:
Summer Fall
Share:
Range & Habitat: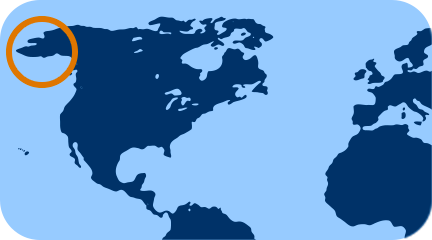 Pacific Northwest & Alaska
Origin:
Cordova, AK
Producer:
Harvest Method:
Net Caught