Tableside Information:
Common Names: Pacific Halibut, Common Halibut, Whitesided Paltus
The Greatest Flatfish in Dining.
Thick, Moist, Large Flake, Mild, Sweet
Food Information:
THE FISHERY - SeafoodS.com is enamored by the availability of Day Boat "Seafood Producers Cooperative" Alaskan Halibut. This is a direct "Same Day" Anchorage Flight into the Continental United States and available to you the next morning. We have years of successes and many accolades with this program. Hook and Line Day Boat Operators, in the SPC, are dedicated to providing some of the best Halibut in the National Market. Allow SeafoodS.com to provide you, your team, and your guests a truly awe inspiring Alaskan Halibut.
THE FISH - What can be said about Alaskan Halibut that you haven't heard from your own voice while eating it? MMMMMMMM usually sums it up. The thick translucent fillet offers a culinary canvas that is rivaled by only a handful of other species. The Alaskan Halibut is one of the most recognized Food Fish in Fine Dining. The applications of Alaskan Halibut is limitless and one that you can "Experiment" with all available resources. Alaskan Halibut Boasts some of the highest fat contents in any "White" fish. This translates to extreme moisture and silkiness. The Alaskan Halibut is very forgiving to high heat and "Green" Line Chefs. SeafoodS.com is dedicated to being your Number One Resource for the best Alaskan Halibut.
Poach, Saute, Grill, Broil, Sashimi, Ceviche
Seasonality:
Spring Summer
Share:
Range & Habitat: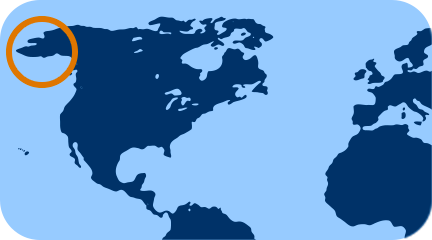 Pacific Northwest & Alaska
Origin:
Berring Sea
Producer:
Harvest Method:
Hook & Line