Tableside Information:
Common Names - Hawaiian Mero, Hawaiian Grouper
TABLESIDE - One of the Richest Grouper Like Species in the World.
Clean, Sweet, Super Moist.
Food Information:
THE FISHERY - Hawaii's Market is unique; boats fishing local waters bring their bounty in to be offloaded into Hawaii's auction, "United Fishing Agency Auction." Hawaiian auction bidders know their favorite boats, handling practices and ordering days. Each buyer takes their prized winning bid back to the plant each day and grades it for national distribution next day.
THE FISH - Hapu upu u is one of the richest species in the Pacific. With it's incredible moisture and unsurpassed sweetness, it is a true luxury to serve and enjoy.
Sear, Saute, Pan Roast, Grill
Seasonality:
Year Round
Share:
Range & Habitat: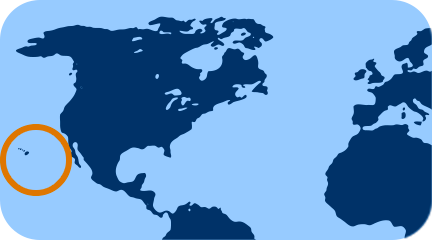 Southern Pacific & Hawaii
Origin:
Hawaii & Open Pacific
Producer:
Harvest Method:
Hook & Line