Tableside Information:
Common Names: Salmon Grouper, Tom Cod (Juveniles)
Very Clean and Moist. A larger species of Rockfish.
Moist, Flakey, Rich, Clean, Paper White
Food Information:
THE FISHERY - Bottom Jigging pulls these beautiful large Rockfish from the chilly depths of the Pacific. Just offshore, these boat Captains are back to dock with some of the freshest California Catch available.
THE FISH - Like all Rockfish, the Bocaccio boast paper white flesh with bright bloodlines. The moisture is abundant, and for the guest who demands light, white, and flakey, this fish is the perfect fit. Substitute this for Grouper, Snapper, and with careful preparation, Black Cod.
Grill, Saute, Broil, Roast, Sous Vide, Ceviche
Seasonality:
Spring Winter
Share:
Range & Habitat: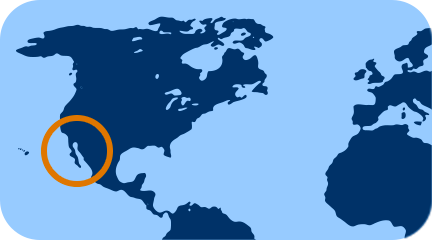 Southern California & Mexico
Origin:
California
Producer:
Harvest Method:
Hook & Line