Tableside Information:
Common Names: Alaskan Sable, Black Cod, Coal Cod, Gindara
The Ultimate "Flaky"! Rich and Buttery!
Moist, Flaky, Moist, Sweet, Paperwhite
Food Information:
THE FISHERY - SeafoodS.com is enamoured by the availablility of Day Boat "Seafood Producers Cooperative" Black Cod. This is a direct "Same Day" Anchorage Flight into the Continental United States and available to you the next morning. We have years of successes and many accolades with this program. Hook and Line Day Boat Operators, in the SPC, are dedicated to providing some of the best Black Cod & Halibut in the National Market. Allow SeafoodS.com to provide you, your team, and your guests a truly awe inspiring Alaskan Black Cod.
THE FISH - Similar to Chilean Seabass, Alaskan Black Cod has one of the best "Flake" of any species. Ribbon-like layers of "Butter". The depths of Black Cod's habitat lend to extreme moisture levels. Abundant moisture, and clean sweetness, provide the restaurant guest the ultimate in Fine Dining! It also gives Chef a canvas that is limitless in preparation.
Seasonality:
Spring Summer Fall
Share:
Range & Habitat: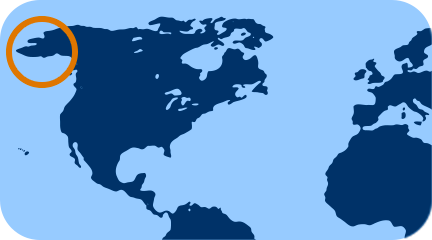 Pacific Northwest & Alaska
Origin:
Gulf of California to Alaska
Producer:
Harvest Method:
Hook & Line