Tableside Information:
Common Names: Tombo Ahi, Longfin Tuna, Longfin Tunny
TABLESIDE - A very fresh lightly colored Tuna.
Crisp, Light, Moderate Flavor, Clean
Food Information:
THE FISHERY - Through a great import partnership, SeafoodS.com is able to bring the finest Tuna available to the United States. Quality product is our passion and we strive to source only the best in the world for our customers. Tahitian-caught, South Pacific premium species like Yellowfin Tuna, Bigeye Tuna, Albacore Tuna, Mahi & Ono are all offloaded early each morning for international distribution by noon the SAME DAY!
THE FISH - Albacore is a great substitute for higher priced Yellowfin & Big Eye. Albacore boasts a Lean, Crunchy texture with a Moderate Flavor. Tahitian Albacore is Caught, H&G, Bled and wrapped upon landing. It is Cut and Vacuum Sealed immediately at its return to dock. For a beautiful Raw application, SeafoodS.com Albacore is superior in the market.

Seasonality:
Year Round
Share:
Range & Habitat: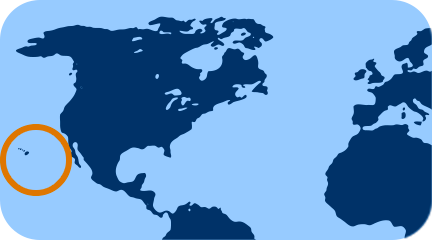 Southern Pacific & Hawaii
Origin:
Tahiti & Fiji
Producer:
Harvest Method:
Hook & Line