Tableside Information:
Common Names: Giant Rock Scallop, Purple Hinge Scallop, Mano De Leon (Lion's Paw).
TABLESIDE - Firm yet rich with a sweet finish
Moist, Firm, Succulent, Sweet
Food Information:
THE FISHERY - From small fishing villages along the northern part of the Baja Peninsula, Day Boat Fishermen set out in small Wooden Pangas for a day of hand lining and scallop diving. The honor of tradition and familial unity are drivers in this amazing Day Boat program.
THE SCALLOP - The Mano de Leon or "Paw of the Lion" is aptly named by Latino fishermen for the scallops large size and orange coloration similar to that of a lions paw. These scallops have absolutely no chemical and are tacky and they glisten. When cooked slightly medium, they are moist and have a distinct flavor reminiscent of the ocean. This scallop is a fantastic compliment to any menu and will wow your customers.
Seasonality:
Spring
Share:
Range & Habitat: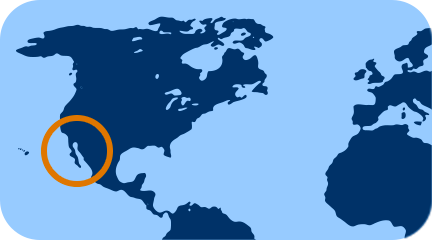 Southern California & Mexico
Origin:
Baja Peninsula & Gulf of California
Producer:
Harvest Method:
Hand Cultivated