Tableside Information:
Common Names: Red Salmon, Blueback Salmon
The Copper River Sockeye is the highest quality Sockeye in the World.
Silky, Moderate, Deep Red, Rich
Food Information:
The Copper River - The Copper River rises out of the Copper Glacier, which lies on the northeast side of Mount Wrangell. One of the widest deltas in North America, the Copper River hosts every species of Salmon in their migration to spawn upstream. Sockeye Salmon seem to be the most abundant harvest and most marketable for restaurants and retailers.
THE FISH - The Sockeye possesses the reddest flesh from an almost exclusive diet of plankton. Even when cooked the Sockeye's flesh remains bright red. Sockeye ranks just behind Kings in Omega 3 Fatty Acids. Sockeye are an excellent heart-healthy food. Its full flavor and firm texture make it a favorite of the Salmon family. The Sockeye Salmon is the premiere Salmon for deep red plate presentation. The culinary applications are limitless and beyond reproach.
Grill, Saute, Broil, Smoke, Souse Vide, Tare tare.
Seasonality:
Spring Summer
Share:
Range & Habitat: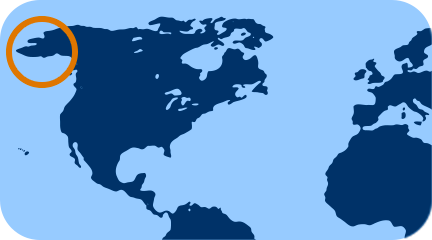 Pacific Northwest & Alaska
Origin:
Copper River Delta Alaska
Producer:
Harvest Method:
Net Caught