Tableside Information:
Common Names: Sea Salmon
Faroe Island Salmon is one of the world's best choices for aqua-culture seafood.
Rich, Buttery, Flakey, Silky
Food Information:

THE FISHERY - Faroe Island Fisheries have a thorough understanding of the product as well as the process. They have a rich past that is honored and respected, and they have a bright future as respected leaders in this industry. The entire focus has been, is, and will always be, on providing you with the highest quality Salmon in the world. Faroe Island Salmon are stringently monitored and improved upon by constant research and systems development. The North Atlantic provides pristine oxygenated currents to these low-density systems that greatly increase natural growth and maintain optimal health of these Salmon. Faroe Island Salmon Fisheries implemented the first "Stun & Bleed" Systems in the world to insure the Salmon are processed in the most humane method possible.
THE FISH - Faroe Island Salmon is SeafoodS.com's largest Atlantic species offerings. The fish are offered from the 15 to 17 lb mark to their largest, 22 lbs and up. The growing methods and extremely cold waters offer an insurmountable level of body fat. For any Chef who bases quality of Atlantic Salmon by Fat, Size, Consistency, and Sustainability; this is your Salmon!
Sear, Pan Roast, Grill, Tartare, Sashimi.
Seasonality:
Year Round
Share:
Range & Habitat: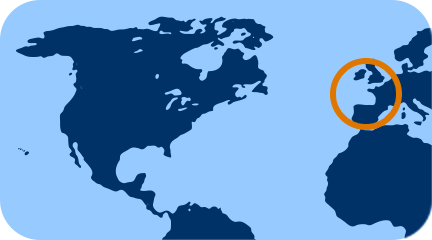 Europe
Origin:
Faroe Islands, Denmark
Producer:
Harvest Method:
Hook & Line