Tableside Information:
Common Names: Greater Amberjack; Lesser Amberjack
Firm Moist with Large Flakes
Moist, Succulent, Firm, Moderate
Food Information:

THE FISHERY - Ask any fish monger about procuring Gulf species and he'll mention St. Petersburg, Florida ("St. Pete" for short). Vast varieties of finfish ranging from Tuna and Swordfish to Groupers and Snappers are distributed through this historically-rich region of the Florida coastline. Expect to also see a robust selection of Keys-caught species like Yellowtail Snapper, Caribbean Red Snapper and Hogfish to come through St. Pete. It's regionally situated in a perfect location for national distribution and with our Q&A in place, it's always top quality.
THE FISH - Greater and Lesser Amberjacks have a great "Oil" to the flesh. They cook up firm with a very silky texture. Wild Amberjacks are leaner than farmed Hamachi and Hiramasa, but hold up to more expensive farmed products in flavor and usability. Amberjacks are an undersung species and have a reputation for parasitic activity in the flesh. If parasites are found they are easily removed and also pose no threat to humans. This is a reputation that is not as deal breaker. Amberjack receive high heat cooking very well and marinate beautifully.
Sear, Broil, Grill, Smoke.
Seasonality:
Year Round
Share:
Range & Habitat: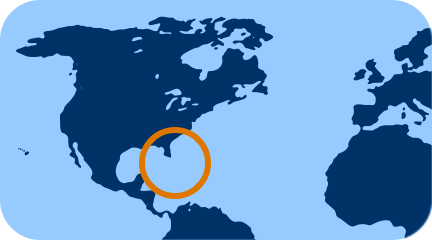 South Atlantic & Caribbean
Origin:
Florida Atlantic
Producer:
Harvest Method:
Hook & Line