Tableside Information:
Common Names: Black Cod, Sablefish, Coal Cod, Candle Cod
Very Moist and Silky Texture
Mild, Moist, Sweet, Creamy
Food Information:
THE FISHERY - Pot Trap catches in Northern California ensure the highest quality fish. Spiny Lobster pots are converted to Black Cod rigs and set for overnight captures. A non evasive and humane catch method give this program a very "Sustainable" reputation.
THE FISH - Live catch methods produce a very firm flesh when fresh and a beautiful cooked product. "Fat" levels of the Black Cod ensure delicate, moist, and mild dishes. The firmness is that of Halibut with a gorgeous flake. The Black Cod lends itself to multitude of cooking applications and is a great "sponge" for marinades and brines.
Poach, Steam, Saute, Pan Roast.
Seasonality:
Year Round
Share:
Range & Habitat: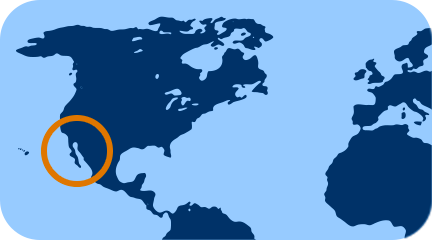 Southern California & Mexico
Origin:
California
Producer:
Harvest Method:
Net Caught