Tableside Information:
Common Names: Drake, Magret, Moulard
All natural and very moist.
Moist, Tender, Flavorful
Food Information:
THE FARM - Duck farming has changed radically from the days of herding ducks in fields. From animal husbandry techniques, to modern hatcheries and feed processes, duck farming has become an exacting science. Providing all natural ducks, bred specifically for the finest flavor, weight and skin available has been the passion of a handful of Pennsylvania farms for over three decades. Coupled with air chilling techniques that significantly reduces food safety hazards, Duck production has reached its highest form. Air chilling has become a favored method of bringing the temperature down after dressing. This process is also more effective in tenderizing the meat. Since the ducks do not depend on ice water for chilling, the duck's natural juices are not diluted in, or replaced by the water in a conventional water chiller.
THE DUCK - SeafoodS.com offers these Ducks year-round and guarantees that the quality stands against other nationally distributed birds. Our producers are committed to supplying Duck that not only warrants culinary celebration, but also adheres to farming practices that celebrate environmental stewardship.
Seasonality:
Year Round
Share:
Range & Habitat: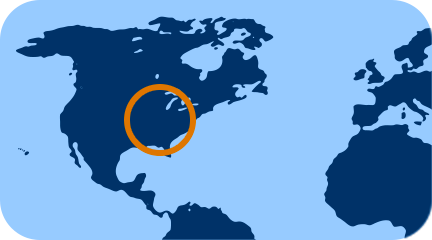 Eastern United States
Origin:
Pennsylvania
Producer:
Harvest Method:
Pastured