Tableside Information:
King crab is low in saturated fat and a good source of vitamin B12, phosphorus, zinc, copper, and selenium. It has fleshy claws and legs with sweet, rich meat.
All of our Golden King Crabs come from Alaska only and rate a "Best Choice" Green by FishChoice.
Bake, Boil or Steam
Food Information:
Golden king crab (Lithodes aequispinus) are found from British Columbia to the Aleutian Islands and Japan. When compared to red and blue king crabs, golden king crab are smaller in size, averaging 5–8 lb. They have a golden-colored shell and five pairs of legs, the front pair carrying their claws. They have a distinctive carapace (the shell covering their back) with a fan-shaped "tail" tucked underneath the rear of the shell. Golden king crab generally have the lowest percentage of meat "infill" inside the shell. They taste similar to red and blue king crab, although perhaps somewhat sweeter.
Seasonality:
Spring Summer
Share:
Range & Habitat: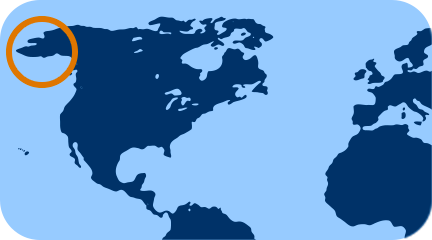 Pacific Northwest & Alaska
Origin:
Ketchikan, AK
Producer:
Harvest Method:
Net Caught