Tableside Information:
Common Names: Mahi, Dolphinfish, Shiira
TABLESIDE - Light to moderate flavor with large flakes.
Moist, Flakey, Complex, Earthy

Food Information:
THE FISHERY - Hawaii's Market is unique; boats fishing local waters bring their bounty in to be offloaded into Hawaii's auction, "United Fishing Agency Auction." Hawaiian auction bidders know their favorite boats, handling practices and ordering days. Each buyer takes their prized winning bid back to the plant each day and grades it for national distribution next day.
THE FISH - Popular and universally known by the public, the Mahi is a rock star. Well, it's a star, but Hawaii ROCKS it. You will find a deeper color in Hawaiian and South Pacific Mahi. Deeper colder waters typically pack the fat into these fish, yielding a rich, moist, flakey fillet. Mahi have great yields and are easily broken down from whole. Make a butchers day and get a "Bull" on his board.
Seasonality:
Year Round
Share:
Range & Habitat: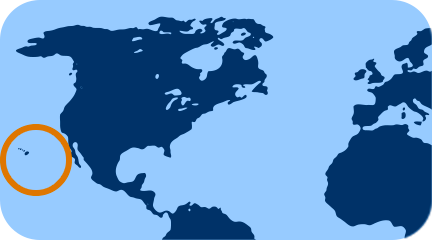 Southern Pacific & Hawaii
Origin:
Hawaii & Open Pacific
Producer:
Harvest Method:
Hook & Line