Tableside Information:
Common Names: Mussels
TABLESIDE - Very Creamy with a Complex Sweetness that transport cooking ingredients.
Complex, Sweet, Creamy, Earthy
Food Information:
THE AQUACULTURE - SeafoodS.com partner with Mussel Aquacultre off Aquidneck Island in the East Passage of Narragansett Bay Rhode Island. The farm is in fifty feet of water and utilizes long line technology to grow bivalve shellfish suspended in trays in mid-water. Warm, plankton (microscopic green plants) enriched water from the Providence River and Mount Hope Bay moves through the farm on the ebb tide. On the flood, cool ocean water from Block Island Sound pushes its way up glacially cut passages and bathes the shellfish on the farm. Shellfish are vegetarians and they filter the plankton from the water. No artificial diets or antibiotics are used on the farm. This filtering activity removes particulates from the water thus improving water clarity. Additionally, excess nitrogen (the curse of most coastal ecosystems) is removed by the shellfish and converted to edible animal protein. At harvest this nitrogen is permanently removed from the ecosystem.
THE MUSSELS - Natural Mussel spat is collected from mid to late summer on the long-lines and brought back to American Mussel. At American Mussel the spat is graded and mesh socks are loaded and returned to the farm in September and October for the growing process. By mid-spring, some of the crop is ready for the market and harvesting begins. Due to the growing process and the unlimited food supply, the shells are as pristine as possible, and the meat is the largest we have seen. The flavor is wonderfully sweet with a slight hint of that wonderful Narragansett Bay salinity. The clean blue shells have waves of gold radiating through.
Seasonality:
Year Round
Share:
Range & Habitat: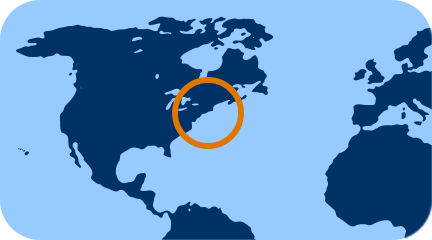 North Atlantic & New England
Origin:
PEI, Maine and Rhode Island
Producer:
Harvest Method:
Hand Cultivated