Tableside Information:
Common Names: Moonfish, Akamanbo

Opah is firm with great moisture. Very nice cooked to Medium.
Firm, Moderate, Complex Ocean Flavor
Food Information:
THE FISHERY - Hawaii's Market is unique; boats fishing local waters bring their bounty in to be offloaded into Hawaii's auction, "United Fishing Agency Auction." Hawaiian auction bidders know their favorite boats, handling practices and ordering days. Each buyer takes their prized winning bid back to the plant each day and grades it for national distribution next day.
THE FISH - Opah consists of two cuts that separate the body structure. The Back, which is the most valued, and the Belly, which has a versatile usability. The back loin will resemble a slighty curved Cylinder and the Belly has a flat triangle shape. Opah can be treated as Tuna, Swordfish, and Ono. The flesh is firm, but holds moderate moisture.
Sear, Grill, Saute, Katsu, Tataki.
Seasonality:
Year Round
Share:
Range & Habitat: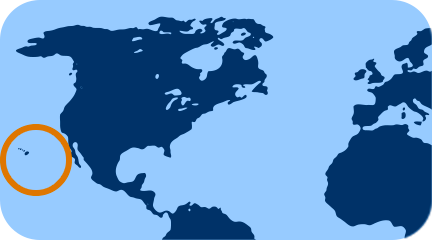 Southern Pacific & Hawaii
Origin:
Hawaii & Open Pacific
Producer:
Harvest Method:
Hook & Line