Tableside Information:
Common Names: Uhu, Parrot
TABLESIDE - Very Moist, Snapper like fillets with a beautiful Blue Green Skin.
Moist, Paper White, Flakey, Light
Food Information:
THE FISHERY - From small fishing villages along the northern part of the Baja Peninsula, Day Boat Fishermen set out in small Wooden Pangas for a day of hand lining and scallop diving. The honor of tradition and familial unity are drivers in this amazing Day Boat program.
THE FISH - Parrotfish are a wrasse much like Hog Fish and Tautog. Very moist flesh offers a light white substitute for more expensive Snappers. The Skin has a gorgeous Blue Green tint that retains during cooking. This is a color under used in culinary plating, especially in a protein. Very versatile in applications. Snapper applications are suitable for Parrotfish.
Saute, Broil, Grill, Poach
Seasonality:
Spring Fall Winter
Share:
Range & Habitat: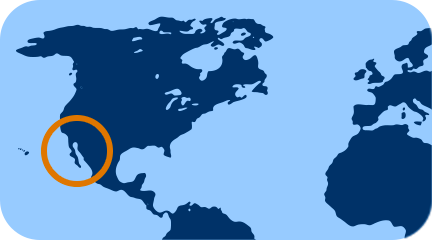 Southern California & Mexico
Origin:
Sea Of Cortez
Producer:
Harvest Method:
Hook & Line