Tableside Information:
Common Names: Dungie, Kani
Very Sweet and Tender.
Flaky, Sweet, Tender, Moist
Food Information:
THE FISHERY - SeafoodS.com is a Direct air-freight opportunity for Pot Trap Caught Dungeness Crabs from Monterey to the Aleutian Islands. All of the Dungeness Crab offered within our programs are captured in season and with Sate approved Pot Traps. Fresh, Live, Fresh Cooked, Frozen Cooked, Fresh Picked Meat, and Frozen Picked Meat are all available depending on seasonality.
THE CRAB - The Dungeness is revered as a West Coast Delicacy. The Common Name Dungeness comes from the town of Dungeness, Washington where the Crab was first commercially harvested. The Dungeness can be utilized from Whole "Crab Crackings" over beers, or served in the most upscale venues paired with Champagne. The applications are endless and a money maker in their own rite.
Seasonality:
Spring Summer
Share:
Range & Habitat: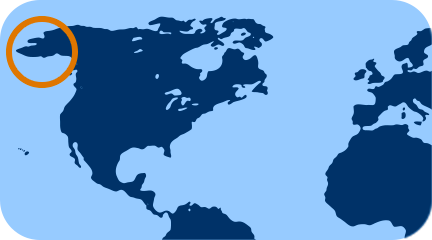 Pacific Northwest & Alaska
Origin:
From Monterey to the Aleutian Islands
Producer:
Harvest Method:
Net Caught