Tableside Information:
Common Names: Pink Baquetta, Brown Baquetta, Gulf Coney, Rooster Hind
Comparable to east coast Grouper with a firmer texture.
Moderate, Firm, Flaky, Clean
Food Information:
THE FISHERY - From small fishing villages along the northern part of the Baja Peninsula, Day Boat Fishermen set out in small Wooden Pangas for a day of hand lining and scallop diving. The honor of tradition and familial unity are drivers in this amazing Day Boat program. Hauling Baquetta, Snapper, Giant Black Bass, Wild Yellowtail, and hand harvested Scallops to San Diego gives SeafoodS.com a unique opportunity to share pristine seafood and a warm history with our customers.
THE FISH - Baquetta is a great option in the Grouper realm. Flavorful and sweet with a great tooth to the cooked flesh. Deep red lines in the white to pink fillet offer a complexity of flavor without tasting bitter or "off". Baquetta can grow large and offer "baseball" cuts, or 3-5 lb fish can yield a beautiful plank.
Seasonality:
Spring Fall Winter
Share:
Range & Habitat: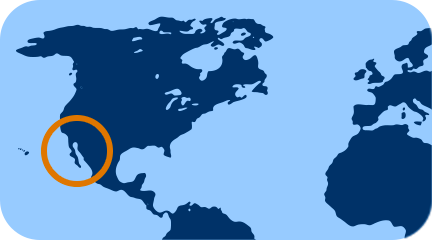 Southern California & Mexico
Origin:
Sea of Cortez
Producer:
Harvest Method:
Hook & Line