Tableside Information:
Common Names: Albacore Tuna, Long Fin Tuna, Ahi, Ahipalaha
TABLESIDE - A lean, light colored Tuna.
Firm, Light, Clean, Crunchy
Food Information:

THE FISHERY - The Hawaiian Market is unique; boats fishing local waters bring their bounty in to be offloaded into the Hawaiian auction, United Fishing Agency Auction. Hawaiian auction bidders know their favorite boats, handling practices and ordering days. Each buyer takes their prized winning bid back to the plant each day and grades it for national distribution next day.
THE FISH - Around the world this fish is known as the high end Canned Tuna, but not in Hawaii. The Tombo is an integral part of the local diet and is an excellent solution to smaller portioning of loin steaks. Lighter in color than its cousin the Yellowfin, the Tombo sheens a beautiful Candy hue like a Pearl paint job on a classic car. When used in contrast of the deep red Yellowfin in a sashimi platter, Tombo stands on its own as a GIANT little Tuna.
THE GRADE - Tombo has 3 grades as a food fish.
Light - Very little Red coloration. Lands somewhere in a pink shade. Great for Cooking.
Standard - Perfect for Poke and light cooking methods.
Sashimi Red - Deep candy apple color perfect for raw and crudo applications
Seasonality:
Year Round
Share:
Range & Habitat: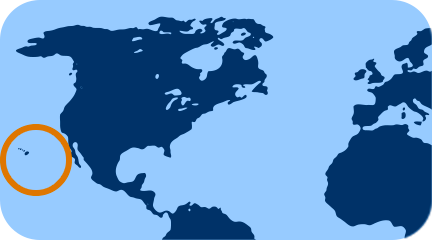 Southern Pacific & Hawaii
Origin:
Hawaii & Open Pacific
Producer:
Harvest Method:
Hook & Line