Tableside Information:
Common Names: Red Snapper, Vermillion Rockfish
TABLESIDE - Luxurious Paper White Flesh.
Mild, Rich, Succulent, Creamy
Food Information:
THE FISHERY - From small fishing villages along the northern part of the Baja Peninsula, Day Boat Fishermen set out in small Wooden Pangas for a day of hand lining and scallop diving. The honor of tradition and familial unity are drivers in this amazing Day Boat program.
THE FISH - Like many Rockfish, The Red Rock Cod has a phenomenal moisture that translates to a rich and succulent texture. The raw light pink flesh cooks to a brilliant paper white. The Rock Cod has a blank slate canvas that accepts many applications. The light flavor is a vehicle for fresh Spring and Summer herbs, fruits and vegetables. Light Butter Sauces, Vinaigrettes, Gastriques and Purees are perfect for this Hand Line delicacy.
Saute, Broil, Ceviche, Sous Vide
Seasonality:
Spring Summer Fall
Share:
Range & Habitat: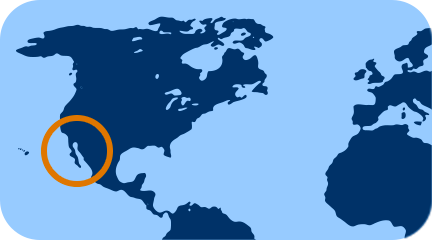 Southern California & Mexico
Origin:
Sea Of Cortez
Producer:
Harvest Method:
Hook & Line