Tableside Information:
Common Names: Southern Halibut, Chicken Halibut, Real Halibut
Light and Flaky with Clean Flavors.
Paper White, Mild, Flakey, Moist
Food Information:
THE FISHERY - From small fishing villages along the northern part of the Baja Peninsula, Day Boat Fishermen set out in small Wooden Pangas for a day of hand lining and scallop diving. The honor of tradition and familial unity are drivers in this amazing Day Boat program. Hauling Baqueta, Snapper, Giant Black Bass, Wild Yellowtail, hand harvested Scallops, and hand netted Shrimp to San Diego gives SeafoodS.com a unique opportunity to share pristine seafood and a warm history with our customers.
THE FISH - California Halibut falls comfortably between Alaskan Halibut and Large Summer Flounders. That gives it a well recognized marketability to anyone across the country and beyond. The California Halibut have wide thick fillets that are perfect for high heat cooking methods. California Halibut stand alone in the Halibut realm as a light, delicate and clean flesh that works in a multitude of applications. A favorite in Ceviche, the California Halibut has the moisture content to stay creamy, but lower fat contents to keep the Ceviche clear. It also has a great propensity for buttery sauces, vinaigrettes, gastriques, and broths.
Give this incredible Halibut a place on the Feature Board and bring a great hand line caught species to your guests.
Saute, Ceviche, Roast, Broil.
Seasonality:
Spring Summer Winter
Share:
Range & Habitat: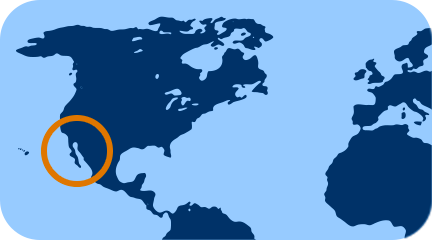 Southern California & Mexico
Origin:
Sea Of Cortez
Producer:
Harvest Method:
Hook & Line