Tableside Information:
Common Names: Short Bill Spearfish, Spearfish, Fuuraikajiki
Very Lean and "Crunchy"
Nutty, Earthy, Lean, Moderate
Food Information:
THE FISHERY - Hawaii's Market is unique; boats fishing local waters bring their bounty in to be offloaded into Hawaii's auction, "United Fishing Agency Auction." Hawaiian auction bidders know their favorite boats, handling practices and ordering days. Each buyer takes their prized winning bid back to the plant each day and grades it for national distribution next day.
THE FISH - Plank Cut Lean Firm Fish. Some say it has the flavor of Walnuts and Poultry. Great yields (near 100%) on the loin. Pink to orange hues give it a beautiful Sashimi display quality. Hebi is a unique flavor that sets it apart from all others.
Seasonality:
Year Round
Share:
Range & Habitat: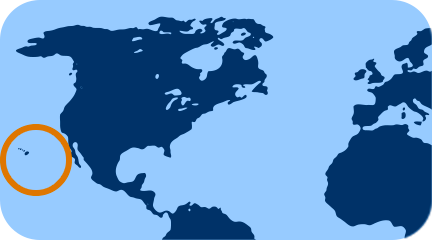 Southern Pacific & Hawaii
Origin:
Hawaii & Open Pacific
Producer:
Harvest Method:
Hook & Line