Tableside Information:
Common Names: California Jack, Wild Hamachi, Pacific Yellowtail
Comparable to Japanese Hamachi and a rich fatty Mahi.
Silky, Moist, Firm, Robust
Food Information:

THE FISHERY - From small fishing villages along the northern part of the Baja Peninsula, Day Boat Fishermen set out in small Wooden Pangas for a day of hand lining and scallop diving. The honor of tradition and familial unity are drivers in this amazing Day Boat program.
THE FISH - A great susbstitute for more expensive "Hamachi and Kompachi". The Wild Yellowtail has a little less fat content than farmed fish, but all of the robust flavor. The Wild Yellowtail, at a lower cost, offer a much broader range of culinary applications. Seared Rare or cooked throughout, the Wild Yellowtail comes out perfect in the lowest to highest culinary experience and ability. Perfect fish for a young staff just learning the ropes. Turn them loose Chef.
Seasonality:
Spring Fall Winter
Share:
Range & Habitat: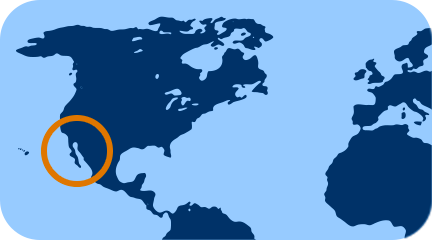 Southern California & Mexico
Origin:
Sea Of Cortez
Producer:
Harvest Method:
Hook & Line