Tableside Information:
Common Names: Cultus Cod, Green Cod, Buffalo Cod.
Large Loose Flakes similar to Monkfish.
Moist, Flakey, Delicate, Succulent
Food Information:
THE FISHERY - Northern California through Alaska have some of the most abundant "bottomfish", including Rockfish, Ling Cod, Black Cod, and Scorpionfish. SeafoodS.com works closely with the supply and ships direct from San Diego.
THE FISH - Ling Cod are the definition of succulence. They are a very deep water dweller. This extreme cold water makes it necessary for the fish to pack on "fat" to regulate body temperature. Halibut has the same trait as a species. The Ling Cod will offer one of the highest moisture contents in the Cod market. This is a seasonal fishery and is typically caught by Halibut Boats in Alaska. Give the Ling Cod a place on your "Feature Board" and your guests will rave. This is free marketing that we could all benefit.
Poach, Broil, Saute, Fry
Seasonality:
Spring Summer
Share:
Range & Habitat: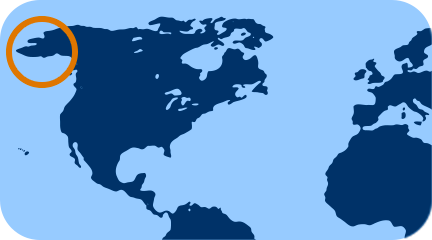 Pacific Northwest & Alaska
Origin:
Pacific Ocean
Producer:
Harvest Method:
Hook & Line