Tableside Information:
Common Names: Spiny Lobster, Rock Lobster
Tableside - Rich, Succulent, Sweet, Buttery

Food Information:
THE FISHERY -The California spiny lobsters are mostly found between Point Conception, California and Baja California, Mexico, where the population is most dense. The Baja fishery is MSC certified and the California fishery is one of the most managed fisheries on the West Coast
THE LOBSTER - Found in the eastern Pacific Ocean from Monterey Bay, California to the Gulf of Tehuantepec, Mexico. It typically grows to a length of 30 cm (12 in) and is a reddish-brown color with stripes along the legs, and has a pair of enlarged antennae but no claws. The interrupted grooves across the tail are characteristic for the species. "California" Spiny Lobsters typically inhabit cold waters. Colder water inhabitants typically store an abundance of fats and oils for body temperature regulation. This attributes to a silky texture and rich flavor. "California" Spiny Lobster tails offer a beautiful addition to seasonal menus and nightly features.
Seasonality:
Spring Fall Winter
Share:
Range & Habitat: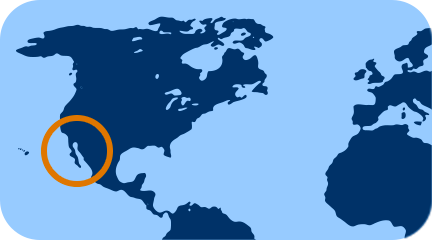 Southern California & Mexico
Origin:
San Obispo Bay to Baja Peninsula
Producer:
Harvest Method:
Net Caught