Tableside Information:
Common Names: Genuine Red Snapper, Gulf Red Snapper
The top tier in Atlantic and Gulf of Mexico Snappers.
Sweet, Light, Flakey, Moist.
Food Information:

THE FISHERY - From Texas coastlines to the deep trenches of the Gulf, Galveston hooks it all. With Day Boats, Long Liners, Short Trip vessels unloading daily, SeafoodS.com has a species that fits your menu. Snapper, Grouper, Golden Tilefish, Triggerfish, and a multitude of items exclusive to the Gulf of Mexico, we are enamored to be your one-stop-shop for incredible Gulf seafood.
THE FISH - Red Snapper have been the source of many species identification disputes in the culinary world. Buying SeafoodS.com Snapper can alleviate any concerns about truth in menu. True American Red Snapper are the height of dining. With its large flake and extreme tenderness and moisture, there is no substitute for upscale American Red Snapper.
Broil, Grill, Saute, Whole Roast, Sous Vide
Seasonality:
Year Round
Share:
Range & Habitat: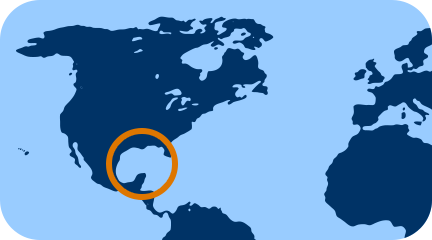 Gulf Of Mexico
Origin:
Gulf Of Mexico
Harvest Method:
Hook & Line