Tableside Information:
Common Names: Redfish, Channel Bass, Reds, Spottail Bass
Very Clean yet Complex and Moist.
Moist, Clean, Mild, Ocean Flavor
Food Information:
THE FISHERY - Gulf Direct from Bilouxi. All the great Gulf Seafood that you anticipate from SeafoodS.com. Direct overnight shipping from Mississippi.
THE FISH - Redfish is a phenomenal Center of the Plate species. The Flesh has large loose flakes that are packed with moisture and a clean ocean flavor. The Skin crisps wonderfully and has a "Fish Bacon" appeal. The Redfish has as many culinary application as the imagination will allow. The fish is very forgiving to high heat applications and "Green" Line Chefs. This is a very recognized "Blackened" Species. Thanks Chef Prudhomme.
Seasonality:
Year Round
Share:
Range & Habitat: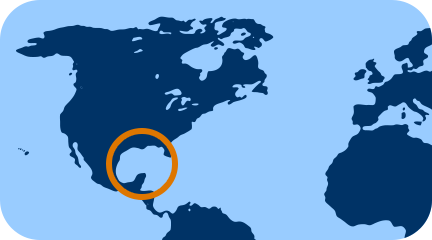 Gulf Of Mexico
Origin:
Bilouxi, MS
Producer:
Harvest Method:
Hook & Line