Tableside Information:
Common Names: Almejas Chocolatas, Baja Seafood Candy, Pata de Mula
A delicacy in Shellfish.
Rich, Briney, Moderately textured, Buttery
Food Information:
THE FISHERY - From small fishing villages along the northern part of the Baja Peninsula, Day Boat Fishermen set out in small Wooden Pangas for a day of hand lining and scallop diving. The honor of tradition and familial unity are drivers in this amazing Day Boat program. Hand Gathered Clams, Scallops, and Urchin make this a very unique fishery.
THE CLAM - Hand Gathered Chocolate Clams from Magdalena Bay, offer a rare opportunity to treat your guests to the Clams that Rick Bayless treats his. Gathering of the Clams have been, until recently, prohibited. Upon the latest biomass evaluation, populations are recorded as very strong and are now available for distribution. Chocolate Clams have a complex Pacific brine that finishes sweet and buttery. Best served raw, but will tolerate light cooking.
Seviche, Sashimi, Crudo, Lightly Steamed, Lightly Saute, Stuffed.
Seasonality:
Year Round
Share:
Range & Habitat: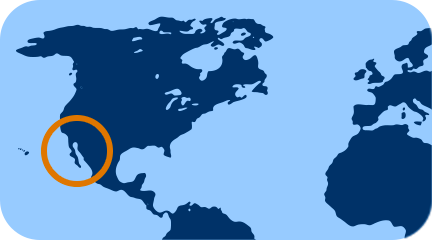 Southern California & Mexico
Origin:
Magdalena Bay
Producer:
Harvest Method:
Hand Cultivated