Tableside Information:
Common Names: Caribbean White Shrimp
Sustainably raised, and wonderfully delicious.
Petite, Sweet, Buttery
Food Information:
THE FISHERY - Responsibly Farm Raised Shrimp
Never exposed to antibiotics, hormones or pesticides and never treated with preservatives. Shrimp are raised on 15 farms located on the Gulf of Nicoya and the Central Pacific Coast of Costa Rica. Laughing Bird Shrimp Farms are certified Organic by Naturland Germany, equivalent to a Seafood Watch "Good Alternative". Laughing Bird Shrimp are raised in an inland closed containment system in Belize, so they are not responsible for destruction of vital mangrove habitat, or for the dumping of untreated shrimp waste directly back into the ocean.
THE SHRIMP - One word... TENDER. These sweet and buttery shrimp hold up wonderfully to many culinary applications. From quick, high-heat methods to softer poaching and braising. The Laughing Bird Shrimp are "Bay" sized at 61/70 count and are distributed peeled in an 8 lb gallon. That's a labor buster! Ready to cook, and perfectly graded make Laughing Bird one of the most easy to use and elevated shrimp on the market.
Seasonality:
Year Round
Share:
Range & Habitat: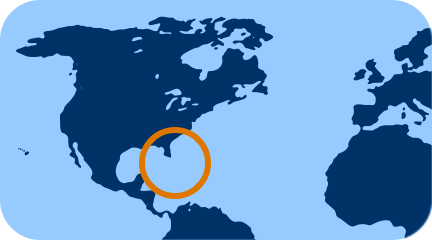 South Atlantic & Caribbean
Origin:
Belize
Producer:
Harvest Method:
Foraged