Tableside Information:
The Port of New Bedford is America's #1 Fishing Port with fish landings valued at $369 million. It has become New England's seafood hub, with more than 30 processors and distributors, ranging in size from high-volume international wholesale to small-scale local retail.
The Port of New Bedford is close to historic and bountiful fishing grounds; an ideal harbor supporting New England's largest fishing fleet. Nantucket Shoals, Georges Bank and the Great South Channel—grounds blessed with abundant sea scallops and an array of fish—all lie within a day's steam. Each year, nearly 50 million pounds of sea scallops land on New Bedford docks, making the city America's most profitable port for the last ten years.
The Port of New Bedford is a full-service port, with ship chandleries, ice houses, welders, net designers, boatyards, gear builders, engineers, maritime attorneys, insurance brokers, settlement houses and every other conceivable shoreside marine support business.

The Port of New Bedford is home to one of the nation's last remaining fish auctions, and numerous other offloading facilities. Vessels from every major East Coast port unload their catch here; including every important commercial species from cod and haddock to sea scallops. During the height of the season, 500,000 pounds of scallop meats cross New Bedford docks in a single day.
The Port of New Bedford is on the leading edge of fisheries science and research, housing UMass Dartmouth's School of Marine Science and Technology—better known as SMAST. This internationally acclaimed marine studies program has played a leading role in current fishery science and management, as well as ocean modeling.
Food Information:
Seasonality:
Year Round
Share:
Range & Habitat: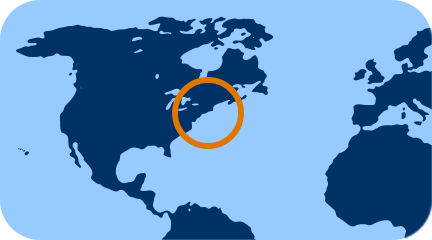 North Atlantic & New England
Origin:
New Bedford, Massachusetts
Producer:
Harvest Method:
Net Caught