Tableside Information:
Common Names: Scarlet, Ruby Snapper, Ula Ula Koa e, Hamadai
The sweetest of Pacific Snapper, the Onaga is the top tier in flavor and texture. Clean, silky, and rich.
Food Information:
THE FISHERY - From The South Pacific to the North Islands of Hawaii. The Hawaiian fleet carefully select fishing grounds to procure the finest sashimi grade Onaga Snappers. Brought to auction in Honolulu, the fish are hand selected for SeafoodS.com and our Chefs.
THE FISH - Ruby Snapper or Long Tail Red Snapper is most commonly known for its role as a special occasion delicacy to natives of the South Pacific. Nothing says "Happy New Year" like a sashimi extravaganza of moist silky Onaga. With its pink flesh and pleasing texture, Onaga offers a versatile range of preparation methods to make any occasion special. Sashimi, Ceviche, Steam, Saute, Broil.
Seasonality:
Spring Fall
Share:
Range & Habitat: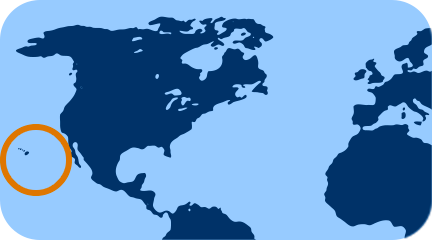 Southern Pacific & Hawaii
Origin:
Hawaiian Islands
Producer:
Harvest Method:
Hook & Line